About AHRC Foundation
---
At the AHRC Walk, a community of people with intellectual and developmental disabilities (I/DD) come together with their parents, siblings and support staff, to show the world the importance of raising funds and awareness to maximize their potential in a more inclusive society.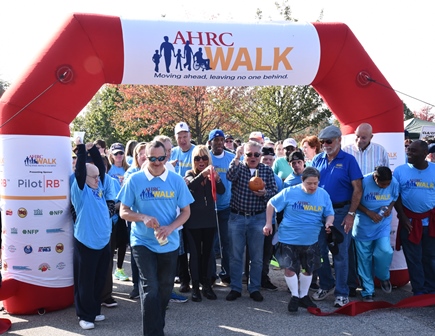 Our Mission
The Mission of AHRC Foundation is to empower people with I/DD to live productive lives, make their own choices about what's important to them, and participate fully with their family and community.
Our Scope
Nassau County AHRC Foundation is a registered 501(c)(3) charitable organization that publicly solicits and receive funds for the benefit of people with intellectual and developmental disabilities, including autism. Thousands of children and adults benefit from the Foundation's support to organizations such as AHRC Nassau, Brookville Center for Children's Services, Citizens Options Unlimited and other community-based organizations serving those with special needs.
Our Work
AHRC Foundation offers rewarding programs and services for people with I/DD and their families. Through our family of organizations, we're able to support a continuum of services that span a lifetime. This includes: Residential Services; Educational Services; Job Training and Placement; Camp and Recreation; Healthcare; Family Support.
Moving Ahead, Leaving No One Behind
Coming together for a common goal, friends, families, corporations, and organizations form fundraising teams to raise funds to enrich the lives of people with developmental disabilities. This culminates in a fun, inspirational and family-centric celebration on Walk day.